(trendingpoliticsnews) – In an unexpected announcement Thursday afternoon, former President Donald Trump disclosed on his social media platform Truth Social that he has been indicted and is due to appear in a federal courthouse in Miami at 3 PM on Tuesday. He vehemently denied any wrongdoing, alleging political corruption within the Biden Administration and voiced his conviction as an innocent man.
In his posts, Trump drew attention to what he referred to as the "Boxes Hoax." Trump pointed out the double standard, explaining that Joe Biden has an extensive collection of boxes housed at various locations.
"The corrupt Biden Administration has informed my attorneys that I have been indicted, seemingly over the Boxes Hoax," Trump wrote in his first post. "Joe Biden has 1850 boxes at the University of Delaware, additional boxes in Chinatown, D.C., with even more boxes at the University of Pennsylvania, and documents strewn all over his garage floor."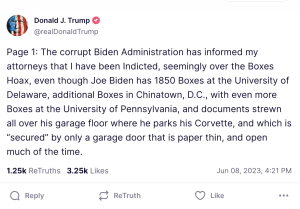 In his subsequent post, Trump confirmed his scheduled court appearance, expressing his disbelief that a former President could be placed in such a situation. The former President also highlighted his strong polling numbers, despite his legal issues, leading all candidates for the 2024 Presidential election.
"I never thought it possible that such a thing could happen to a former President of the United States, who received far more votes than any sitting President in the History of our Country, and is currently leading, by far, all Candidates, both Democrat and Republican, in Polls of the 2024 Presidential Election," he declared.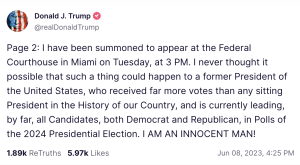 In a final post, the former president characterized the indictment as a "dark day" for America. "We are a country in serious and rapid decline, but together we will Make America Great Again!" he proclaimed. The central focus of the investigation is the discovery of classified documents at Mar-a-Lago, Trump's Florida residence, in August 2022. The Special Counsel was also probing potential obstruction of attempts to recover the Mar-a-Lago records.

Trump's legal team has yet to publicly comment on the indictment, but the development is certain to spark intense attention in the coming days as we await further details.
Less than a day ago, news spread that a potential indictment was impending for the former president. At the time, however, Trump adamantly denied any notification of the indictment.
POSTS FROM WEDNESDAY: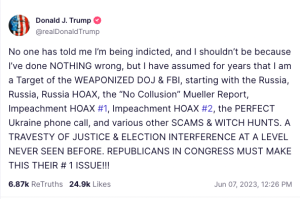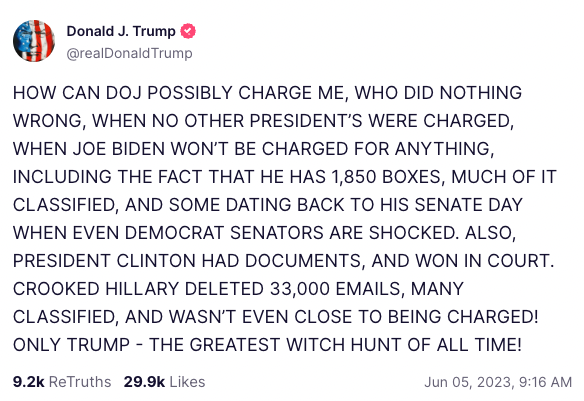 On Monday morning, attorneys for the former President were seen entering the Justice Department, led by Special Counsel Jack Smith, marking a possible hint in the investigation. Trump's legal team, comprised of John Rowley, James Trusty, and Lindsey Halligan, remained at the Justice Department for almost two hours. All three are extremely experienced lawyers.
Rowley and Trusty are both former federal prosecutors with a focus on white-collar crime, while Halligan, a partner in Miami and Ft. Lauderdale East offices of the Property Group, has handled cases involving various types of property claims.
The legal team has reportedly been building their defense strategy for an extended period, following extensive legal research in anticipation of potential charges. The legal counsel for the 2024 presidential hopeful is ready to put forth the argument that, during his tenure as president, Trump had the Constitutional authority to declassify documents and retain them after his term concluded.
trendingpoliticsnews.com/breaking-donald-trump-indicted-to-appear-in-court-on-tuesday-mace/