Portland Police Bureau officers temporarily detained 100 Antifa protesters Friday night. The Pearl District had multiple businesses vandalized. All protesters and some journalists were photographed, and 13 people were arrested.
According to police officials, the group began marching in the street, blocking traffic about 9 pm Friday. Protesters were advised to get out of the open roadway by officials. The group refused and began marching down the road.
The crowd turned violent and began smashing windows of local businesses. Officers moved in and "kettled" the crowd. The group was told they were being temporarily detained and were "not free to leave." Police identified and photographed the people in the confined groups
Journalist Suzette Smith tweeted a photo showing a police officer taking her picture after duct-taping her name and birth date on her chest.
Police later "courteously escorted" her about a block away, where she could no longer report on the activities.
The largely Antifa protesters were detained for "investigation of crimes." Some were arrested after they refused to comply. The group locked arms to interfere with the police investigation.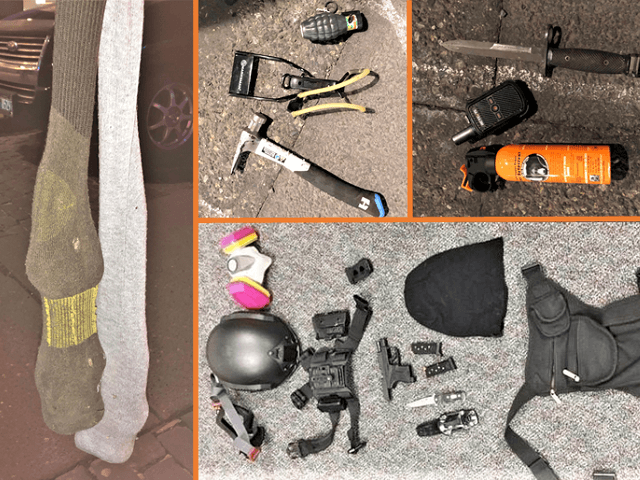 During the process, the police took 13 people into custody. After releasing the other protesters, police searched the area and found vandalism tools and weapons that the protesters had discarded. Those included a crowbar, hammers, bear spray, slugging weapons, a high-impact slingshot, and knives.
After being released from the "kettle" perimeter, protesters began throwing rocks and full cans of beer at the officers, officials stated. Some of the crowd were arrested, two people carrying firearms and wearing body armor and helmets
The Portland Police Bureau listed the names and alleged crimes of the 13 people they arrested in a press release.