Wendy Rittenhouse, Kyle Rittenhouse's mother, in a podcast released Tuesday, spoke out against Lin Wood, she claimes he refused to provide her with an audit of the funds in Fight Back Foundation. Kyle should stay in jail to avoid potential post-election unrest Lin Wood told her.
In exclusive interviews for Law&Crime's podcast "Objections," the teenager's mother Wendy Rittenhouse and #FightBack's former executive director Dave Hancock speak out for the first time about their demands that the non-profit conduct an audit of the money that was fundraised.
Listen to the Law & Crime podcast below.
https://podcasts.apple.com/us/podcast/behind-fightback-untold-tales-lin-wood-how-kyle-rittenhouses/id1550656252?i=1000515092809


Ms. Rittenhouse claims on the podcast that two of #FightBack's leaders—Wood and conservative firebrand John Pierce—latched onto her son's case for their own personal reasons.

"They used Kyle to gain money, gain Twitter followers," Ms. Rittenhouse told Law&Crime. "I felt now they didn't care about Kyle."

The mother has cut ties with #FightBack to start a new legal defense fund for her son under her control called FreeKyleUSA, and she claims that Wood and Pierce have ignored repeated requests to open up their books.

"He used my son's image to make profit off of that. And I asked for an accounting of it. And I never got it. I was ignored," Ms. Rittenhouse said of Wood in an interview with Law&Crime. "They used a 17-year-old kid's image for their own political shit."

"I asked Lin, where's the money?" Ms. Rittenhouse recalled separately. "I wanted to see the books, like the accounting books."

In an email, Wood denied receiving any request for an audit and said FightBack would be "perfectly willing to undergo any audit required by law."

[…] Ms. Rittenhouse told Law&Crime that Wood and Pierce damaged their client's case with public messaging motivated more by their political ideologies than her son's best interest. She also claims on the podcast that the two lawyers left her son in jail for 87 days because of Wood's belief in a breakdown in U.S. society following the presidential election.

"He told me that my son would be safe in jail because he thought that on the night of the election—was Nov. 3 or the fourth, I can't remember what day the election was on—that there was going to be Armageddon going to happen," Ms. Rittenhouse said in an interview. "And Kyle was safer in jail."

In an email, Wood emphasized that he is not a criminal defense attorney and did not represent Rittenhouse in that capacity. He claims that he agreed with a decision to keep Rittenhouse in jail because of death threats that he received, but that is not how the teen's mother recounts it.

[…] As the 2020 election approached, Hancock said that he grew frustrated with the direction of the #FightBack Foundation, and he expressed that Wood had been using what had been intended to be a non-partisan organization to advance his political agenda, including a fundraiser for the ill-fated Senate campaign of ex-Rep. Doug Collins.

"I absolutely do not agree with FightBack using FightBack funds for a political fundraiser, especially since Lin had maxed out his personal contribution," Hancock said in a statement backed up by Federal Elections Commission records.
Woods issued a statement on Telegram in response to the piece on Law&Crime: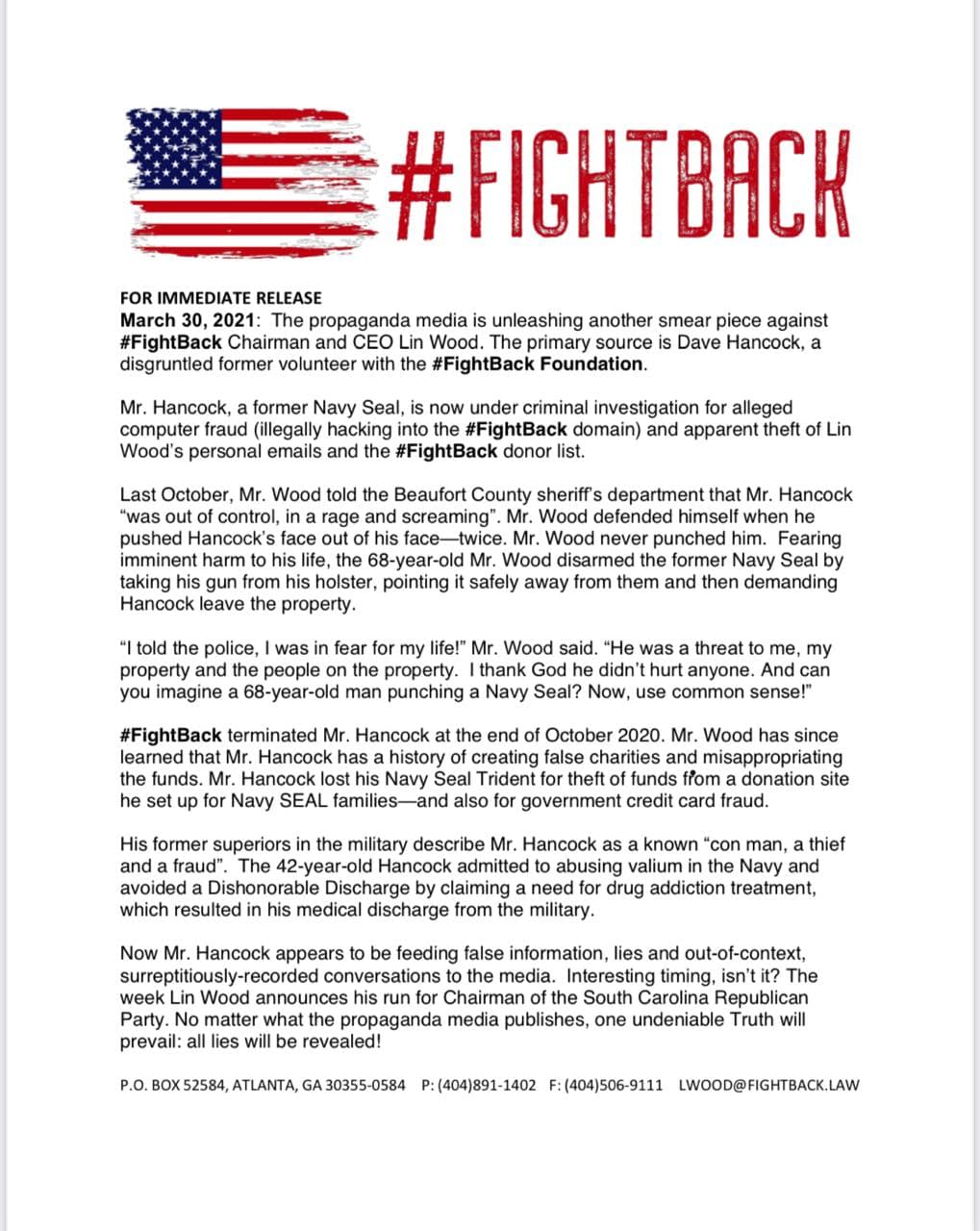 Money raised by FightBack was not enough to meet the bail.
Woods's announcement to help organize Kyle's defense was a part of the reason so much money was raised.