Merrick Garland is the most radical, extremist Attorney General in the history of our nation.
From The Daily Mail, "Derek Chauvin and three other Minneapolis ex-cops in George Floyd's death face LIFE in prison after they are hit with federal charges for violating his civil rights during his arrest":
Derek Chauvin and the three other former Minneapolis police officers involved in George Floyd's death have been indicted on federal hate crimes charges.
Chauvin, 45, Thomas Lane, 38, J Alexander Kueng, 27, and Tou Thao, 35, were charged Friday with willfully violating Floyd's civil rights when he died under Chauvin's knee last May.
The convicted killer and the three other cops now face federal charges for failing to provide medical care to Floyd during his fatal arrest outside a convenience store.
Chauvin is further charged with violating Floyd's right to be free from the unreasonable force by a police officer. In contrast, Thao and Kueng are charged with failing to intervene to stop Chauvin from using excessive force.
If convicted on these charges, all four disgraced officers could face the federal death penalty or life in prison.
All four former officers are being held on bail of $1 million each.
This seems to prove the Star Tribune's report last week that Merrick Garland's DOJ planned to arrest Derek Chauvin in court and charge him again if he was found not guilty in a blatant act of double jeopardy.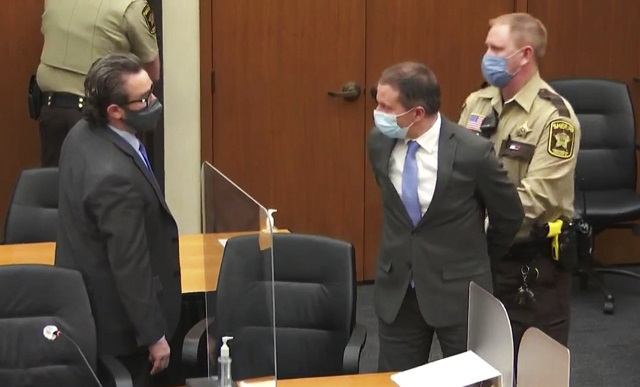 Chauvin's case was a show trial that was rigged, and any sane justice system would overturn an appeal immediately.
Beyond the refusal to grant a change of venue and the jury intimidations, one of the jurors lied to get on the jury.
Now Garland is gearing up to put him to death!
Garland is seeking $85 million to prosecute right-wing Americans as domestic terrorists.
While letting off Antifa rioters and refusing to prosecute the unnamed officer who executed unarmed Ashli Babbit, he demands prosecution for everyday Americans.