The Los Angeles Times continues its racial attack on Larry Elder, California gubernatorial challenger, as the news pages question his ties to the local black community.
The Thursday article, by Donovan X. Ramsey, is titled, "Larry Elder calls himself 'Sage From South Central.' But his ties to Black L.A. are fraught."
Ramsey cites "critics" of Elder who, "say he's the Black face of white supremacy and his proposals would harm Black and Latino Californians" — linking to the Time's opinion column, "Larry Elder is the Black face of white supremacy. You've been warned."
The article follows the editorial line that conservative black people can never be accepted as black. "I think most Black people know that Larry Elder is a sellout," one person is quoted as saying.
Elder's supporters are quoted as well, though the article concludes: "Elder, by far the leading candidate to replace Newsom if the recall passes, is unlikely to triumph based on how people in his old neighborhood will vote. Then again, his success never depended much on what people in places like South L.A. thought about him."
In a separate article on Wednesday, the Times described a physical attack on Elder by a gorilla mask-wearing white woman as if Elders were the aggressor, or even involved in the fight: "LAPD is investigating altercation involving Larry Elder at Venice homeless encampment."
The Times tweet for the article showed Elder with his hand on a white woman's face, seeming to underscore the point.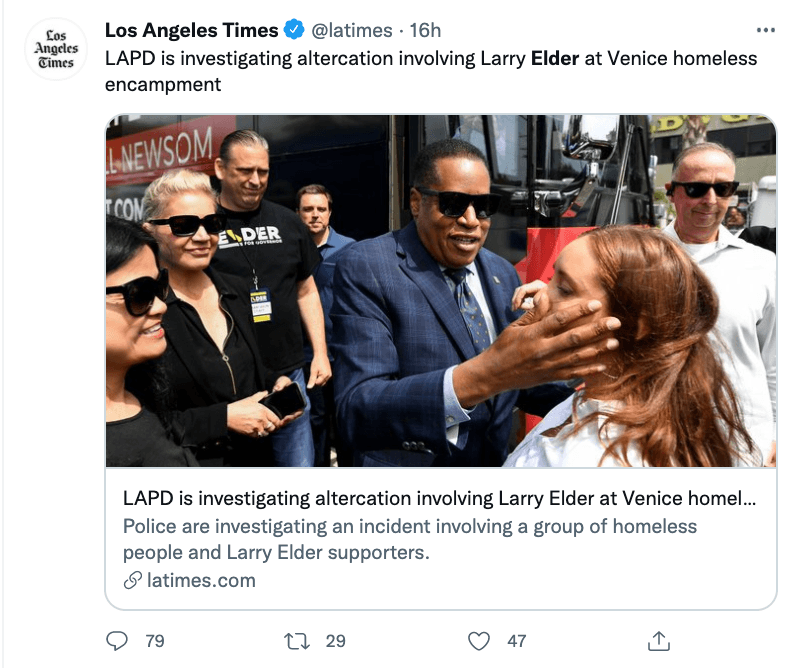 The video of the event showed Elder never responded to the attack from behind; security whisked him away.
Last year, the Times issued an apology for "systemic racism" throughout its history.